Casino of The Week - #4
Showcasing the Casinos of Hobo


Do you have what it takes to build one of the nicest Casinos on Hobo following a new set theme each week? Oh boy... do we have the competition for you!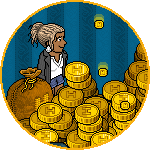 COTW#3 Winners are....
1ST PLACE - Sahara
* Winners please speak to Puffin or Bunny to claim your prize.
This weeks theme is: OG Casinos

Join our Discord by clicking here;
Once you've completed the room, please name it COTW4 and refrain from making any changes;
Look for
on our Discord server. It should be under the general category.
Post a screenshot of your submission + your username in the COTW#4 Submissions Thread.


Golden Cup
30 Thrones
100 Diamonds
Casino of The Week #1 Badge
30 Dinos
30 DJS
30 Typos

Silver Cup
20 Thrones
50 Diamonds
Casino of The Week #2 Badge
20 Dinos
20 DJS
20 Typos

Bronze Cup
10 Thrones
25 Diamonds
Casino of The Week #3 Badge
10 Dinos
10 DJS
10 Typos
Due to the Holidays an this competition will be extended beyond a week. The deadline is Janurary 12th, 2022.