ROTW #8 / COTW #5
Congratulations this weeks winners!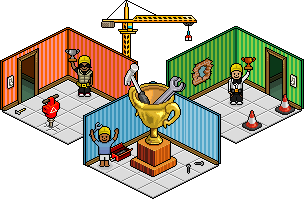 * THE FIRST PLACE WINNER OF COTW THIS WEEK (THEME IS LOVE/VALENTINES) WILL HAVE THEIR ROOM FEATURED ON THE PUBLIC NAVIGATOR FOR THE UPCOMING V-DAY CAMPAIGN!
Going forward we will now merge these two news articles together to avoid spam, confusion, and hopefully generate more interest in the Room of The Week competition. Room of The Week is an open themed competition, allowing our users to showcase their latest and greatest creations on the Hotel.
Any type of room may be submitted, however you cannot submit the same room you are entering in the Casino of The Week competition, which is generally themed.

Each competiton offers a first, second, and third place prize, however, due to lack of interest in Room of The Week, often enough we have one to two submissions... I'd like to again point out that this is an open themed competition and you can easily submit any of your recent creations. Due to general lack of interest we may consider discontinuing ROTW (again).
Room of The Week #7 Winners Casino of The Week #4 Winners

Sahara
Michael
HighRoller
Sahara
HighRoller
Please see bunny or Puffin for your rewards.


Golden Cup
30 Thrones
150 Diamonds
ROTW #1 Badge
30 Dinos
30 DJS
30 Typos

Silver Cup
20 Thrones
75 Diamonds
ROTW #2 Badge
20 Dinos
20 DJS
20 Typos

Bronze Cup
10 Thrones
28 Diamonds
ROTW #3 Badge
10 Dinos
10 DJS
10 Typos

Room of The Week: Open Theme (Can't submit COTW Entry)
Casino of The Week: Love/Valentines
Join our Discord by clicking here;
Look for
on our Discord server. It should be under the 'General' category.
Post a screenshot of your submissions in the appropriate thread; Room of The Week #8 Submissions or Casino of The Week #5 Submissions... if your Discord nickname doesn't match your Hobo name, please include that in your post.
DEADLINE: January 22nd, 2022.